---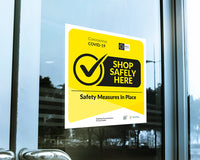 Customer reassurance Static Cling Film. It simply clings to your window. Very easy to remove or relocate.
Can be applied to the inside of the window. This is a cling film with no adhesive. 
Reassure your customers that you have taken all the appropriate steps in order to protect them from Covid-19. Comes in several sizes:
100x100mm
150x150mm
200x200mm
350x350mm
Sold in multiples, depending on the chosen size.