---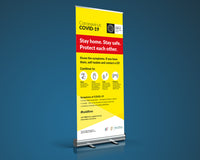 A good quality, budget pull up banner. This is one of the most popular options for exhibitions, trade shows and POS use.
This budget roll-up banner is available in two widths: 850mm wide & 1000mm wide.
We print all our roll-up banners on a high quality 380gsm PET film with excellent properties, that was specifically designed for pull-up banners. Stays flat for a long period of time. Great scratch resistance.
For extra durability and protection, we recommend having your pull-up banner over laminated with our specially formulated textured laminate. This will ensure an even longer life, and will give your roll-up banner exceptional scratch protection.
The pull-up banner unit is made from aluminium, with an easy to use folding pole. For added stability, the roll-up has two rotating feet that simply fold away when not in use. Overall, this pull-up banner is extremely quick easy to use.
Includes a carrying case.
Turnaround time 2 to 3 working days. 
Nationwide Delivery.