---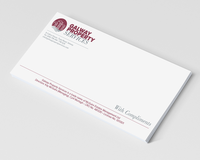 Compliment Slips are a very useful piece of business stationery. 
Smaller in size than a letterhead, a compliment slip usually holds the same details. Compliment slips are a usually used to write small notes to customers / suppliers. 
Your brand identity is important and this should be reflected by your compliment slips.
You will receive a great quality compliment slip from us, printed on 120gsm laserbond paper that works with all office printers (laser).
You can order by uploading your own PDF file. We also have a graphic design service available. Alternatively, design templates and specifications can be emailed to your graphic designer.
Turnaround time 2 to 3 working days. This will take an extra few days if you want us to do the graphic design for you, depending on the work load at the moment. Please call us, prior to ordering, should you have any queries about the turnaround time.
Nationwide Delivery.