---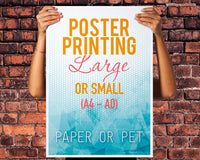 Quality Printed Posters available. We can print your posters on three different materials, depending on the size you need.
Smaller printed posters, A4 and A3 are only available in quantities of minimum 100, and they are only printed on 170gsm gloss paper.
Large format printed posters (A2 up to A0) are available on either 190gsm silk paper, or on 380gsm PET (flexible plastic). They are both suitable for both indoor or outdoor use. The ink will not run (even though the paper option will get wet). Our 380gsm PET is waterproof and will not need any type of lamination for outdoor use.
Common sizes for printed posters are:
A4 printed posters (210x297mm)
A3 printed posters (297x420mm)
A2 printed posters (420x594mm)
A1 printed posters (594x841mm)
A0 printed posters (841x1189mm)
You can order your printed posters by uploading your own PDF file. We also have a graphic design service available. Alternatively, design templates and specifications for printed posters can be emailed to your graphic designer.
A4 and A3 posters are shipped in boxes, while the large format posters (A2 up to A0) are delivered in cardboard tubes.
Turnaround time 1 to 2 working days. This will take an extra few days if you want us to do the graphic design for you, depending on the work load at the moment. Please call us, prior to ordering, should you have any queries about the turnaround time.
Nationwide Delivery.