---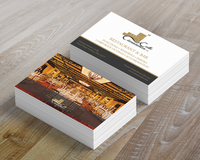 Business cards are probably the most widely used business stationery. It is the first thing you should do when meeting a new customer - hand them your business card.
Your business cards will be printed on quality 350gsm card, and over-laminated on both sides. You simply cannot beat the feeling you get from holding a quality business card. It never ceases to impress. 
Your business card says a lot about you and your business and it is the single most important piece of stationery you must have. Make it easy for your customers to contact you.
You can order your business cards by uploading your own PDF file. We also have a graphic design service available. Alternatively, design templates and specifications can be emailed to your graphic designer. 
Turnaround time 2 to 3 working days. This will take an extra few days if you want us to do the graphic design for you, depending on the work load at the moment. Please call us, prior to ordering, should you have any queries about the turnaround time.
Nationwide Delivery.