---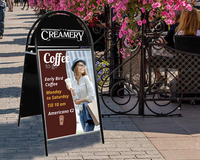 Booster A Frame Pavement Sign with Branding
This pavement signs provides excellent versatility and a branded top panel, that will make your brand instantly recognizable. It has a strong, yet light and powder coated frame that is durable and makes it ideal for outdoor use. 
This double sided pavement sign has magnetic poster covers that will make poster changing a breeze. This makes the Booster A Frame ideal for both long term and short term promotions.
The interlocking arms will make it easy to secure your sign while in use, while also allowing you to fold this pavement sign to a flat shape, for minimal space requirements white in storage.
Double sided A frame board
Built to last - powdered coated frame
Fitted with interlocking arms on sides, for added safety
Easily transported and stored by folding the interlocking arms  
Circular shaped header panel, ideal for branding
Choice of three sizes
Interchangeable posters, secured with magnetic poster covers
Branding for header panel included in price (on two sides)
Printed posters available