---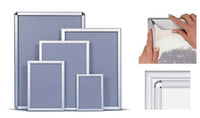 Illuminated snap frames (single sided) for indoor use. Also known as LED lightbox snap frames. And we offer a variety of 7 sizes, from A4, up to A0, B2 and B1.
An illuminated snap frame is a fantastic way to draw attention to a certain product or service that you want your customers to notice. These lightboxes can be wall mounted or suspended (sometimes in  windows).
Smart looking, thin and LED illuminated, our illuminated snap frames sport an anodized aluminium finish.
The LEDs have a life of over 50,000 hours of operation. And they have very low power usage, especially compared to the older fluorescent tubes.
All our illuminated snap frames come with a suitably sized print. We use quality transparency film that is specifically designed to be used in lightboxes. This helps the light diffuse evenly, producing a beautiful overall look. This film is sometimes known as duratran, or translucent material.
The print is extremely easy to replace when it's time for the next product or service to shine. Simply snap the four sides open, remove the clear protective plastic and put in your new print. No tools required.
Replacement lightbox prints can also be ordered separately if desired.
You can order your illuminated snap frame (and print) by uploading your own print ready PDF file. We also have a graphic design service available. Alternatively, design templates and specifications can be emailed to your graphic designer.
Turnaround time 3 to 5 working days. This will usually take an extra few days if you want us to do the graphic design for you, depending on the work load. Please call us, prior to ordering, should you have any queries about the turnaround time.
Nationwide Delivery.