---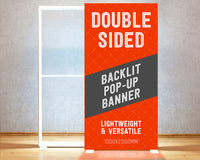 This is the future of pull up banners. Lightweight and versatile. This portable illuminated pop up banner is LED back lit and it is also double sided. It sports a durable hard plastic frame, that can be set up in minutes. Plug and play LED illumination - could not be simpler to use. No tools required to assemble.
The front and back fabrics can be easily replaced for the next product or service that you want to promote.
Coming in at an amazing 5kg this illuminated pop up banner is a versatile solution for almost any indoor use. Exhibition, display, hotel receptions, mobile marketing and so on. It's so light and compact, it can easily be brought most places.
This double sided illuminated pop-up banner is available in 1000mm wide x 2000mm whigh. And only 150mm deep.
We print all our illuminated pop-up banners on a high quality fabric with excellent properties, that is stretchable enough to ensure a crease free display. Great scratch resistance.

The pop-up banner unit is made from plastic which makes it both light and durable. For added stability, the pop-up has two feet. Overall, this double sided illuminated pop-up banner is quick to set up and easy to use.

Includes a carrying case.
You can order your pop up banner by uploading your own print ready PDF file. We also have a graphic design service available. Alternatively, design templates and specifications can be emailed to your graphic designer.
Turnaround time 5 to 7 working days. This will usually take an extra few days if you want us to do the graphic design for you, depending on the work load. Please call us, prior to ordering, should you have any queries about the turnaround time.
Nationwide Delivery.